About Us 
Helping You Keep Your Best Friend Active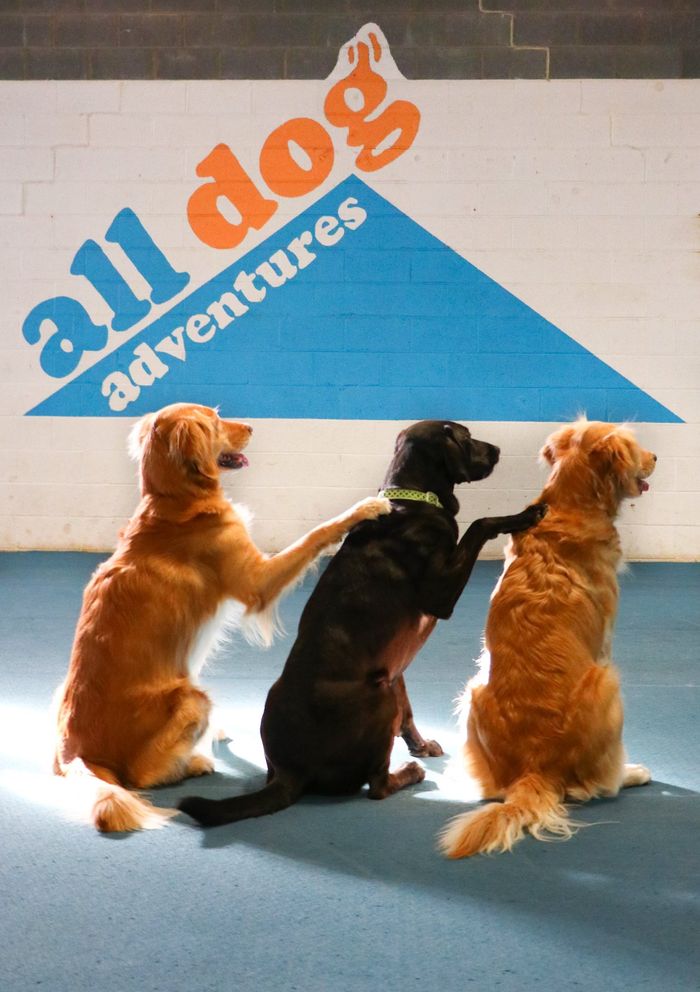 About All Dog Adventures
All Dog Adventures team of dedicated dog trainers are here to train you and your pup to work as a team. Serving Richmond, VA, and surrounding communities, we strive to provide excellent guidance on how you and your dog should behave. Whether we are teaching foundational skills, therapy dog preparation, or advanced classes, we have the best interests of you and your pet at the forefront of our minds.
Our trainers & staff look forward to hearing from you!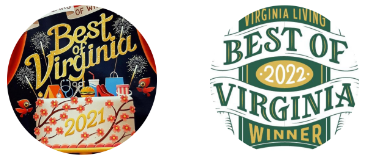 Certifications & Awards
All Dog Adventures strives to be the best pet facility in Richmond, VA, by providing dogs and owners with engaging, fun, and educational training and excellent boarding and daycare services. We are honored to receive first place for Best Dog Training Company and second place for Best Pet Boarding/ Daycare Facility in Central Virginia for the third year in a row! Thank you for your continued support!
All Dog Adventures opened as the first doggy daycare in Richmond, VA, in Huguenot Village in Richmond's Southside. Since then, we have helped thousands of owners and pets improve their relationships through our Life Skills courses, doggie daycare services, and advanced training. Our team of dog experts loves to educate others on having the best relationships with their pets.
Humble Beginnings
In 1996, All Dog Playskool opened in Richmond, VA, in Huguenot Village in Richmond's Southside as the first doggie daycare. Some of our first seminars were conducted by Gary Wilkes, Sue Sternberg, and Peter Wilkes from England, to name a few.
In 1998, All Dog Playskool opened its second location on Thalbro Street in the Scott's Addition / West End of Richmond. With the second location, All Dog Playskool added more group training classes, with the first of many was establishing an unequivocal agility program. In addition, All Dog Playskool added boarding and a self-serve dog wash.
Transforming into All Dog Adventures
With the expansion of All Dog Playskool's training programs, the business relocated in 2009 to 4111 W. Clay Street, Scott's Addition / West End. It expanded its name to All Dog Adventures to include the new philosophy of taking relationships to a higher level.
All Dog Adventures is the home of multiple Master Agility Champions (MACH's), Agility Dog Champions (ADCH's), and Trick Dog Champions (TDCH's), as well as numerous titled dogs in Obedience and Rally Obedience in various venues, i.e., AKC, USDAA / WCRL, UKC, C-WAGS, etc. In addition, many of All Dog Adventures' dogs have become Canine Good Citizens, Therapy Dogs, and actors in local commercials.
All Dog Adventures continues to grow by offering continuing education seminars conducted by dog trainers considered to be at the top of their profession from all over the world and expanding class offerings to accommodate the evolution of dog sports and activities.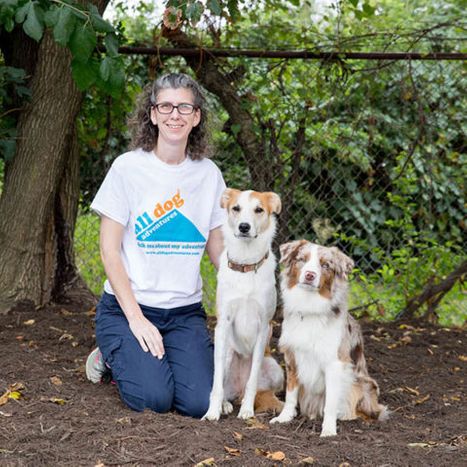 Michelle Gamage, Life Skills & Tricks Instructor
Michelle Gamage has worked her way from starting in the All Dog Adventures Apprenticeship program in 2017 to being our evening Tricks instructor, Life Skills instructor, and teaching a Stunt Dog class. Owning a sensitive dog, Willa, sparked Michelle's interest in confidence-building and dog behavior. As a Certified Professional Dog Trainer (CPDT-KA), ProDog Trainer (PDT), Certified Trick Dog Instructor (CTDI), CGC and AKC Tricks Evaluator, and Stunt Dog Judge, she leads workshops and classes on building confidence in your pet.
Michelle has been training dogs competitively since 2010. Dabbling in many dog sports, she concentrates on Stunt Dog, Tricks, Disc Dog, and Rally. Her competition dogs, Willa and Basil, are Stunt Dog, Tricks, and Life Skills demo dogs. They have performed in front of audiences at local Richmond events. Willa, an All-American rescue, is a Grand Champion Trick Dog, Grand Champion Stunt Dog, and has her CGC and numerous Rally and Tricks Specialties titles. She competed at the Stunt Dog Nationals in 2018 and 2019, where she was runner-up in the Stunt Dog National Finals in 2019. Michelle and Willa enjoy recreational agility, barn hunt, nose work, and swimming.
Basil, a Mini Australian Shepherd, is a Grand Champion Trick Dog, Grand Champion Stunt Dog has his CGC and numerous titles in Rally and Tricks Specialties. Michelle and Basil enjoy playing and competing in disc dog sports and train in obedience, rally, agility, and other dog sports for fun. Michelle, Willa, and Basil are trick-aholics and build their relationship daily by playing games and performing tricks.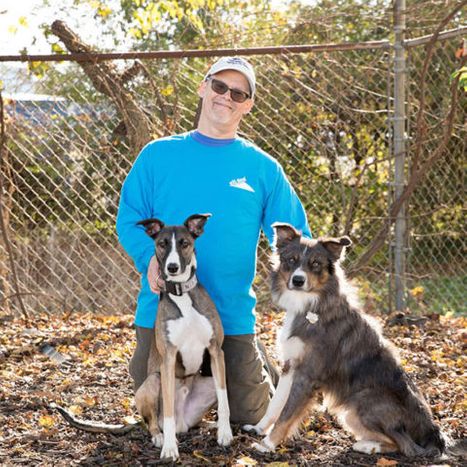 James George, Agility Instructor
James George is a recently retired RN with a 10 year history of agility sports, as well as dabbling in trick training, Fast Cat and Dock Diving.
His agility carrier started while he was fostering Springer Spaniels. Lucy, a 9 month old Springer came with a history of anxiety, and home destruction. Agility was started as an outlet and like so many he promptly caught the agility bug.
Lucy went on to be the #2 Springer in the country in her height class for a period of time.
Currently James is competing. with a Border Collie and 2 sport mixes and trials frequently locally as well as nationally occasionally. He has competed at AKC Nationals twice and Westminster twice.
He has put 6 MACH's (Masters Agility Championships) on his dogs to date.
James's training philosophy is reward based training with a emphasis on building motivation and drive. The goal is for the sport to be fun and rewarding for both the dog and the handler.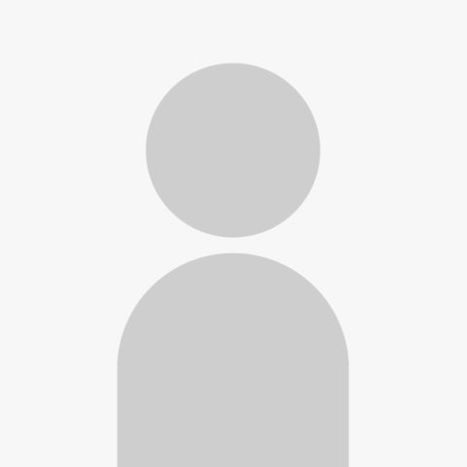 Pam Oken-Wright, Life Skills & CGC/ Therapy Dog Prep Class Instructor
Dog training is one of many "retirement careers" for Pam Oken-Wright. Her other "careers" are as an author and early childhood education consultant. Pam ventured into dog training when her now elderly dog, Lucy, told her that she was a therapy dog in no uncertain terms. Lucy visited the oncology/hematology clinic at VCU Children's Hospital every week for years.
When it seemed likely that Lucy would soon have to retire, Beckett, an all-American terrier, came along. Beckett has earned the AKC Canine Good Citizen certification, Alliance of Therapy Dog certification, an advanced tricks title, an AKC novice rally title, and he does agility for fun. He took over Lucy's job at Children's Hospital, adding the pediatric surgery unit and inpatient pediatrics. He is also "demo dog extraordinaire" for Pam's classes, the Life Skills and Canine Good Citizen/Therapy prep class. Pam is a certified Canine Good Citizen evaluator and a tester and observer for the Alliance of Therapy Dogs. She lives with her husband, Lucy, Beckett, and retriever mix, River.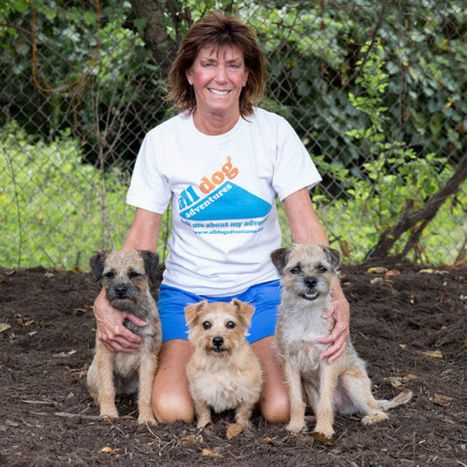 Sara Woodyard, Agility & Obedience Instructor