About Us 
Helping You Keep Your Best Friend Active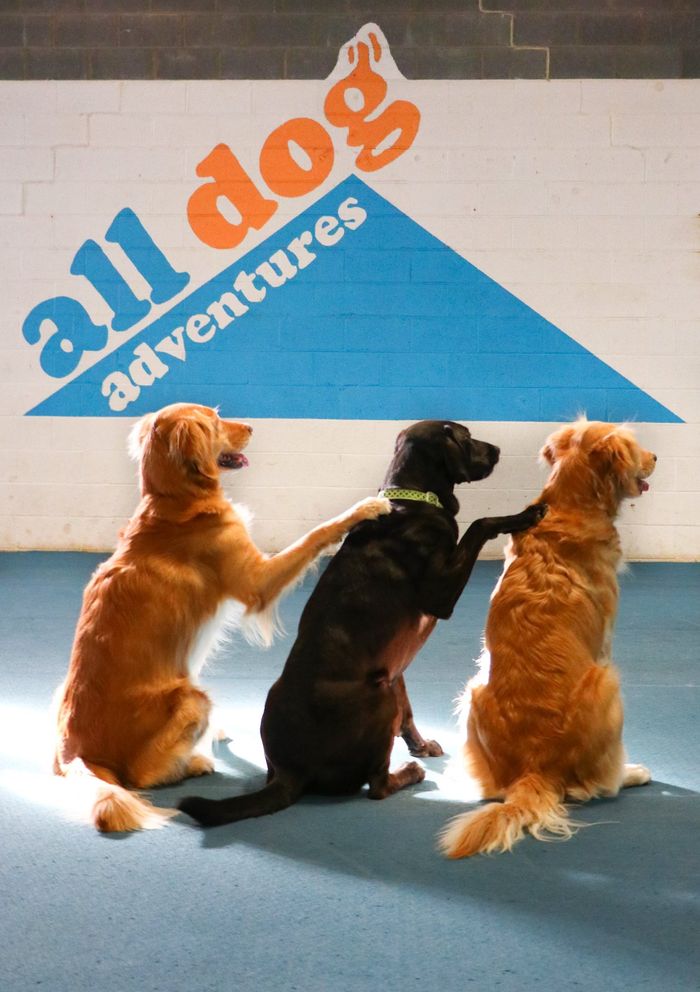 About All Dog Adventures
All Dog Adventures team of dedicated dog trainers are here to train you and your pup to work as a team. Serving Richmond, VA, and surrounding communities, we strive to provide excellent guidance on how you and your dog should behave. Whether we are teaching foundational skills, therapy dog preparation, or advanced classes, we have the best interests of you and your pet at the forefront of our minds.
Our trainers & staff look forward to hearing from you!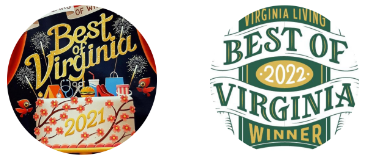 Certifications & Awards
All Dog Adventures strives to be the best pet facility in Richmond, VA, by providing dogs and owners with engaging, fun, and educational training and excellent boarding and daycare services. We are honored to receive first place for Best Dog Training Company and second place for Best Pet Boarding/ Daycare Facility in Central Virginia for the third year in a row! Thank you for your continued support!
All Dog Adventures opened as the first doggy daycare in Richmond, VA, in Huguenot Village in Richmond's Southside. Since then, we have helped thousands of owners and pets improve their relationships through our Life Skills courses, doggie daycare services, and advanced training. Our team of dog experts loves to educate others on having the best relationships with their pets.
Humble Beginnings
In 1996, All Dog Playskool opened in Richmond, VA, in Huguenot Village in Richmond's Southside as the first doggie daycare. Some of our first seminars were conducted by Gary Wilkes, Sue Sternberg, and Peter Wilkes from England, to name a few.
In 1998, All Dog Playskool opened its second location on Thalbro Street in the Scott's Addition / West End of Richmond. With the second location, All Dog Playskool added more group training classes, with the first of many was establishing an unequivocal agility program. In addition, All Dog Playskool added boarding and a self-serve dog wash.
Transforming into All Dog Adventures
With the expansion of All Dog Playskool's training programs, the business relocated in 2009 to 4111 W. Clay Street, Scott's Addition / West End. It expanded its name to All Dog Adventures to include the new philosophy of taking relationships to a higher level.
All Dog Adventures is the home of multiple Master Agility Champions (MACH's), Agility Dog Champions (ADCH's), and Trick Dog Champions (TDCH's), as well as numerous titled dogs in Obedience and Rally Obedience in various venues, i.e., AKC, USDAA / WCRL, UKC, C-WAGS, etc. In addition, many of All Dog Adventures' dogs have become Canine Good Citizens, Therapy Dogs, and actors in local commercials.
All Dog Adventures continues to grow by offering continuing education seminars conducted by dog trainers considered to be at the top of their profession from all over the world and expanding class offerings to accommodate the evolution of dog sports and activities.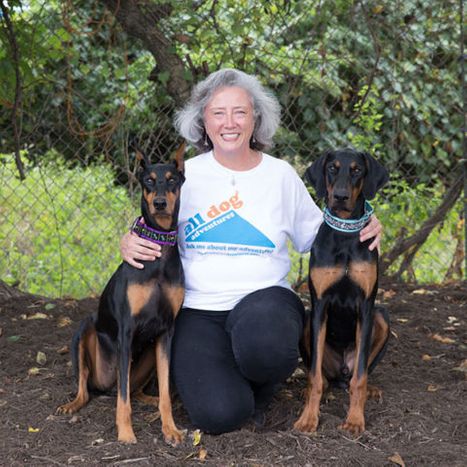 Melanie Parrish, General Manager & Rally Instructor
Melanie Parrish is a lifetime dog lover and has been owned by Doberman Pinschers since 1986. Since beginning her dog training journey in 2006, she has added the following title: General Manager of All Dog Adventures; Rally Obedience Judge for World Cynosport Rally Limited (WCRL); Rally Obedience Instructor; American Kennel Club (AKC) Canine Good Citizen (CGC) Evaluator; Alliance of Therapy Dog Team Member; Caring Canines Therapy Dog Team Member; and Board Member for the All Dog Performance Sports Club (UKC) and Member of the Cavalier Doberman Pinscher Club (AKC).
Melanie has earned titles competing with her dogs at multiple venues (AKC, C-WAGS, UKC, and WCRL). Georgia & Seger are her current companions with whom she enjoys Obedience, Rally Obedience, Tricks, and Therapy Dog work. As an instructor, Melanie finds great joy sharing knowledge and being a part of the relationship-building between students and their beloved canines. She also considers it a privilege and honor to have a "front-row seat" when serving as a judge.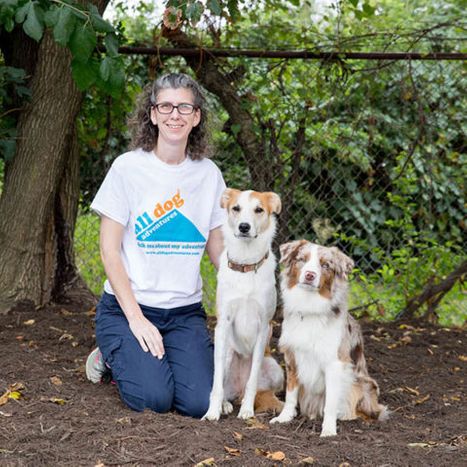 Michelle Gamage, Life Skills & Tricks Instructor
Michelle Gamage has worked her way from starting in the All Dog Adventures Apprenticeship program in 2017 to being our evening Tricks instructor, Life Skills instructor, and teaching a Stunt Dog class. Owning a sensitive dog, Willa, sparked Michelle's interest in confidence-building and dog behavior. As a Certified Professional Dog Trainer (CPDT-KA), ProDog Trainer (PDT), Certified Trick Dog Instructor (CTDI), CGC and AKC Tricks Evaluator, and Stunt Dog Judge, she leads workshops and classes on building confidence in your pet.
Michelle has been training dogs competitively since 2010. Dabbling in many dog sports, she concentrates on Stunt Dog, Tricks, Disc Dog, and Rally. Her competition dogs, Willa and Basil, are Stunt Dog, Tricks, and Life Skills demo dogs. They have performed in front of audiences at local Richmond events. Willa, an All-American rescue, is a Grand Champion Trick Dog, Grand Champion Stunt Dog, and has her CGC and numerous Rally and Tricks Specialties titles. She competed at the Stunt Dog Nationals in 2018 and 2019, where she was runner-up in the Stunt Dog National Finals in 2019. Michelle and Willa enjoy recreational agility, barn hunt, nose work, and swimming.
Basil, a Mini Australian Shepherd, is a Grand Champion Trick Dog, Grand Champion Stunt Dog has his CGC and numerous titles in Rally and Tricks Specialties. Michelle and Basil enjoy playing and competing in disc dog sports and train in obedience, rally, agility, and other dog sports for fun. Michelle, Willa, and Basil are trick-aholics and build their relationship daily by playing games and performing tricks.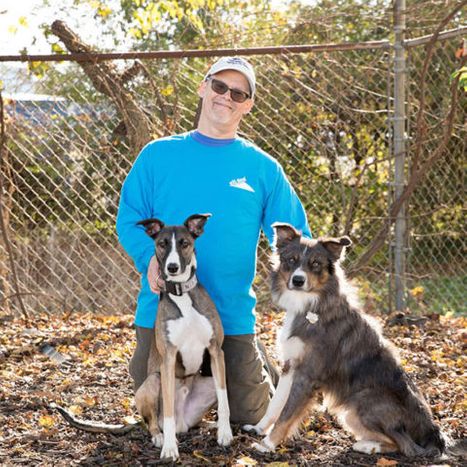 James George, Agility Instructor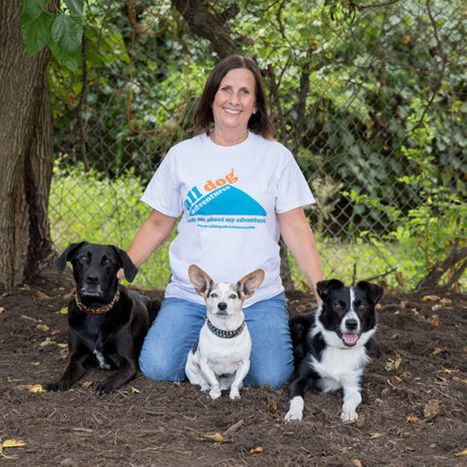 Nancy Lech, Tricks Instructor
Nancy Lech loves to continually expand her knowledge of helping owners and their dogs by attending classes and seminars. As a Rally, CTDI Tricks, and CGC evaluator, she is looking forward to sharing the joy of training with you. Her favorite pastime is teaching her dogs tricks and sharing that joy by participating in events that showcase Griffin, Emerald, and Tiki and their favorite jokes.
Nancy's two all-Americans and border collie have been featured on national and local TV commercials and online projects. Emerald was featured in a Dominion Energy commercial playing Charlie, who retrieved sunscreen and a hat for her owner. She also was in a National show called True Terror with Robert Englund. Emerald said that was her favorite as she got to use her barking and growling on cue a lot! Griffin recently modeled for Walmart.com and can be seen in online ads for Main Street homes. All of these involve tricks and obedience training. There are more to come!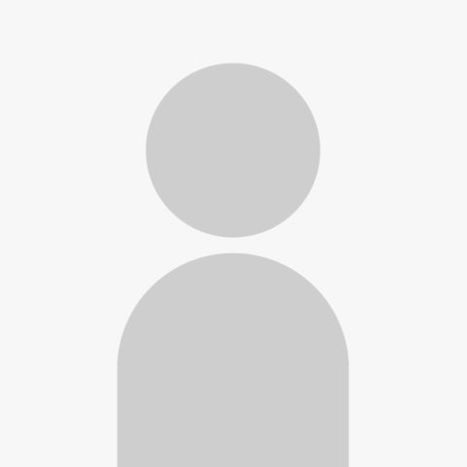 Julie, Life Skills & Rally Instructor
After being mentored by Kathy Smith, a certified behaviorist, Julie joined our team teaching levels one through three at All Dog Adventures five years ago. Also teaching Rally OBedience and as a Certified Trick Dog Instructor, Julie loves to see the bond between you and your dog flourish.
She is certified to evaluate dogs for tricks titles and Canine Good Citizenship titles. Julie has been working with her dog Elsie, a mountain cur/hound rescue, for six years. Elsie has her WCRL Level 3 title (RL3), her Expert Trick Dog and Trick Dog Performer titles (ETD & TKP), and her Canine Good Citizenship (CGC). They also participate in Competition Obedience and agility classes together. Julie believes that the learning process is a never-ending journey, and she is always seeking new challenges for her eager little Elsie.
Her new puppy, Rhubarb Pi, a pitbull/hound rescue, is currently enrolled in Life Skills classes at All Dog Adventures and is well on her way to following in her big sister's footsteps. Julie's number one goal with dogs is to help them disengage from the environment and engage with their human companion. She believes in LIMA (least invasive, minimally aversive) guidelines and is a big proponent of mental stimulation and enrichment for dogs. She is a member of the International Association of Animal Behavior Consultants (IAABC). Julie has a weakness for dogs with special needs. Over the years, she has rescued dogs with fear of new people, fear of new dogs, loud noises, seizures, deafness, generalized anxiety, confinement anxiety, and separation anxiety.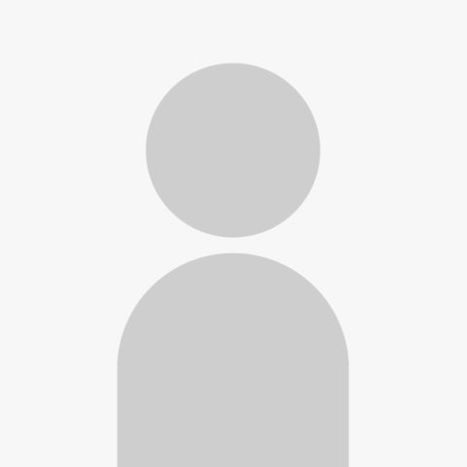 Lachelle Henderson, Managers & Agility Instructor
Lachelle Henderson began her dog training journey as a student at All Dog Adventures in 2017. After our apprenticeship program, shadowing and learning from our other fantastic instructors, she became a Life Skills instructor in 2018. Lachelle trains and competes in agility with Juneau, her Australian Cattle Dog.
The team has earned their Advanced Trick Dog, and Excellent Agility titles and are currently working towards their Master Agility and BCAT titles. She recently added a new member to her pack, a border collie puppy named Hutton, who hopes to compete within agility someday. In her spare time, Lachelle enjoys traveling, hiking, mountain biking, and rock climbing.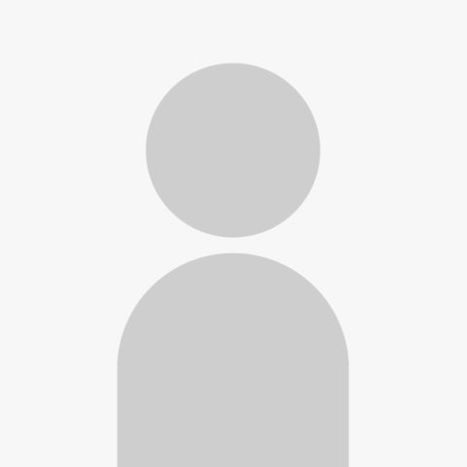 Pam Oken-Wright, Life Skills & CGC/ Therapy Dog Prep Class Instructor
Dog training is one of many "retirement careers" for Pam Oken-Wright. Her other "careers" are as an author and early childhood education consultant. Pam ventured into dog training when her now elderly dog, Lucy, told her that she was a therapy dog in no uncertain terms. Lucy visited the oncology/hematology clinic at VCU Children's Hospital every week for years.
When it seemed likely that Lucy would soon have to retire, Beckett, an all-American terrier, came along. Beckett has earned the AKC Canine Good Citizen certification, Alliance of Therapy Dog certification, an advanced tricks title, an AKC novice rally title, and he does agility for fun. He took over Lucy's job at Children's Hospital, adding the pediatric surgery unit and inpatient pediatrics. He is also "demo dog extraordinaire" for Pam's classes, the Life Skills and Canine Good Citizen/Therapy prep class. Pam is a certified Canine Good Citizen evaluator and a tester and observer for the Alliance of Therapy Dogs. She lives with her husband, Lucy, Beckett, and retriever mix, River.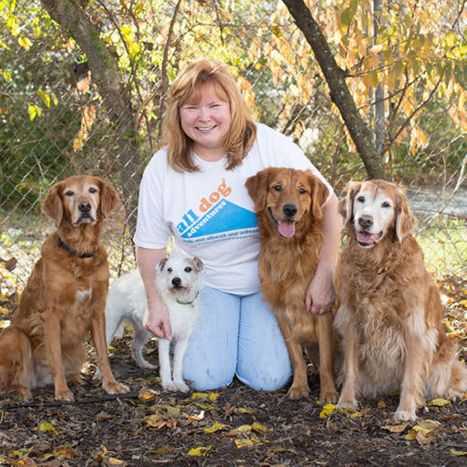 Stacy Reeves, Agility Instructor
Stacy Reeves began training after getting an intense, energetic Golden Retriever, Gracie, as a family pet in 2004. Since then, she has adopted a Parson Russell terrier, Carter, and three more golden retrievers, Seeker, Stinger, and Valor. Stacy has competed in Agility, Obedience, Rally, and Earth Dog competitions. Recently, training began for Stinger and Valor in Field Work.
Stacy's love of dog sports has led her to attend many workshops and handling camps given by top competitors in Agility, Obedience, and Field. Stacy teaches agility classes and spends much of her time training her current dogs, Singer and Valor, in Agility and Field.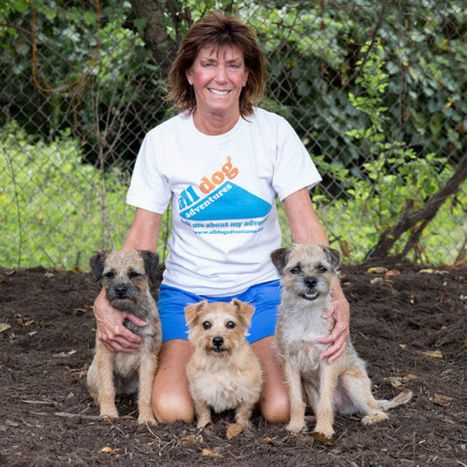 Sara Woodyard, Agility & Obedience Instructor