Boarding
Dogs Need Vacations Too!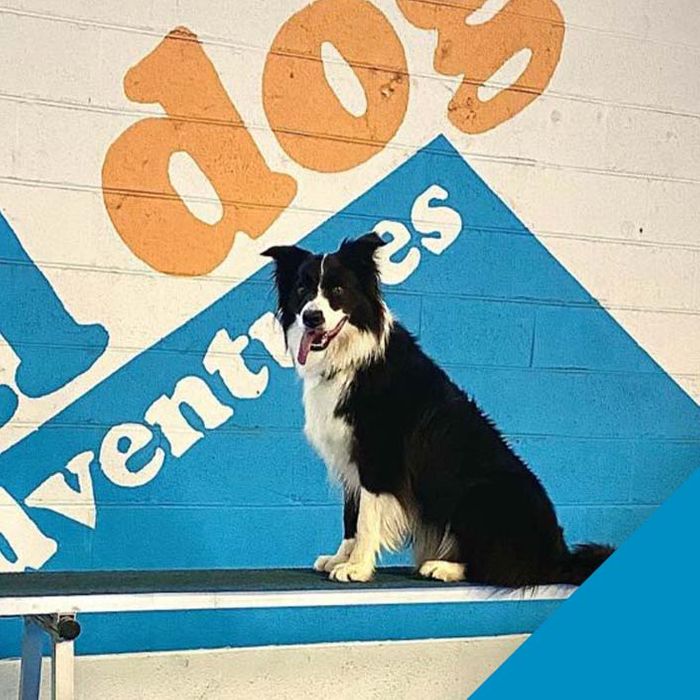 Award-Winning Dog Boarding Conveniently located in Richmond, VA
All Dog Adventures offers premier doggy daycare and boarding services to keep your dog stimulated, socialized, and well-behaved. Serving Richmond, VA, and surrounding communities, we work hard to provide your pet with the best structured plan ensuring fun and quality care! Whether you need overnight dog boarding or a day of doggy daycare, don't hesitate to choose our team of dog experts!
Meet Our Skilled Staff Schedule Dog Boarding
Book boarding, day care and training online through our new mobile app today! To sign up, please Use All Dog Adventures code: 846142
Have questions? Give us a call!
Dog Boarding Your Four-Legged Friend Will Love
Before boarding at All Dog Adventures, it is required that your pet attends a day of daycare. Not only does this help your dog acclimate to being in our care and routine, but it also helps our staff assess your dog's play style and needs. We treat every pup as if they were our own and strive to provide the best boarding experiences possible.
Boarding is $42 per night.
Our facility regularly has dogs that are not altered (still intact males). We ask that if your dog is in heat, or approaching their cycle, please do not bring them to our facility. If your dog is not spayed, please let us know their last heat cycle and we will mark it in their file.
If your dog is in heat while at our facility, we can not guarantee there will not be interactions with other intact male dogs.
Upgrade Your Dog's Boarding Stay
You can now upgrade your dog's visit and add a wide range of grooming services to your pup's next boarding visit. Add a bath & brush, Pawdicure, or a Tidy Up cut to any daycare or boarding stay by scheduling online or giving us a call at (804) 453-8375
Why is my dog required to come to daycare before boarding?
We want to make sure your dog is comfortable in our facility and a good fit for our pack before you head out of town. We ask that you either bring your dog in for daycare, but they can stay as short as a half of a day. We will do an assessment to understand the dog's temperament so we know which play group to put them in. When the owner comes to pick up the dog for the first time, they are building trust in the dog, and our facility, helping your dog be more at ease next time they arrive. It doesn't happen often, but occasionally our facility is just not the right fit for a dog. We will share our experience with the dog owner when they come for pick up. We would much rather this happen on the evaluation day than on the day you are leaving for a 7-day vacation! Assessments are for the safety of your dog, our pack, and our awesome staff.
Does my dog need to be spayed/neutered to be eligible for boarding?
No. However, we do require that females in season stay home.
What will be my Dog's schedule while boarding?
Dogs need both exercise and rest. Your dog will start the day resting in the boarding room, group near the other dogs they will play with. Our daycare staff does 2-hour rotations, 2 hours of rest, and 2 hours of play. Your dog will have fun playing in our yards with their group and then come back in for a little rest time. Depending on the weather, and what time your dog arrives and goes home, they will be outside playing between 4-6 hours! Our dogs that are staying multiple days will develop play groups and bond with their new friends. We keep electronic records of medical and feeding records, as well as notes, so our staff always stays up to date on the best care for your dog.
Do you provide food or should I bring my own?
We encourage you to bring your own food. It's easiest for dogs to maintain their diets when visiting our facility. If you happen to run out or forget, we have dog food available for a small fee.
Can I get grooming services done while my dog is Boarding?
Absolutely! You can schedule anything from a nail trim, or bath, to a full-service groom while your dog is in our care. We have grooming techs and an experienced groomer on staff. We recently renovated an office to become a grooming shop and would love to become your groomer. Schedule a bath to end your boarding stay and pick up a fresh, tired dog!