Dog Daycare
We Engage, Socialize, & Teach Your Pet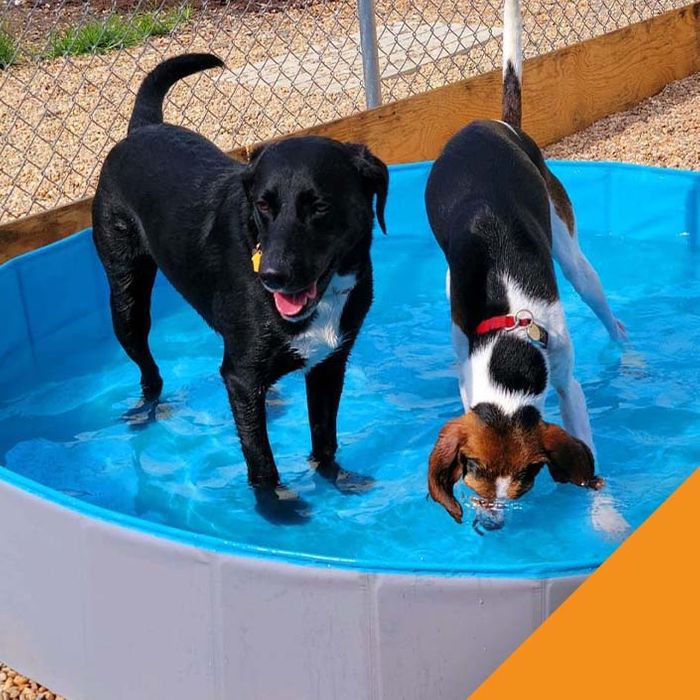 Exceptional Daycare Perfect for Your Pup in Richmond, VA
All Dog Adventures offers premier doggy daycare and boarding services to keep your dog stimulated, socialized, and well-behaved. Conveniently located between Richmond's growing Scotts Addition and Wilow Lawn, we work hard to provide your pet with the best-structured plan ensuring fun and quality care! Whether you need overnight dog boarding or a day of doggy daycare, don't hesitate to choose our team of dog experts!
Meet Our Staff Register Your Dog
Book boarding, day care and training online through our new mobile app today! To sign up, please Use All Dog Adventures code: 846142
Have questions? Give us a call!
Providing Premier Daycare Plans Since 1996
All Dog Adventures works tirelessly to provide the perfect, structured environment for your canine companions. We offer customized scheduling for doggy daycare plans to meet your dog's needs based on personality, size, and age. Dogs rotate between playing with staff, socialization in small groups of ten or fewer dogs, and rest time.
Our doggy daycare includes reinforcement of positive habits and consistency with our Life Skills Program. We encourage dogs with one-on-one training not to jump on people or bark excessively while at daycare.
Thanks to our small groups of playtime overseen by an attendant, your pup will get the socialization and exercise you want without the risk of getting lumped into a group where they may be unattended, injured, or bullied. Our goal is for your pet to go home tired but happy from all the play and mental stimulation!
Our facility regularly has dogs that are not altered (still intact males). We ask that if your dog is in heat, or approaching their cycle, please do not bring them to our facility. If your dog is not spayed, please let us know their last heat cycle and we will mark it in their file.
If your dog is in heat while at our facility, we can not guarantee there will not be interactions with other intact male dogs.
Join Our Pack!
Your dog will love playing in our brand new play yard. Our facility now includes 6500 sq ft of certified playground mulch, new drains, a new fence, and privacy screens. Our playgroups are five or fewer dogs, grouped together by size and temperament and monitored by our skilled staff, all trained in dog behavior!
Hear Feedback From Happy Dog Parents!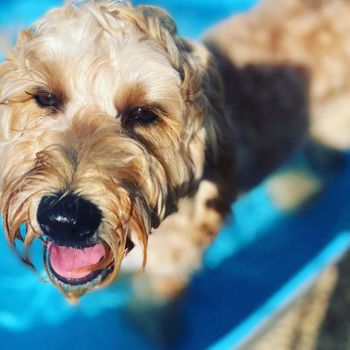 "Great place for daycare and training. Focus on positive reinforcement training and our pup never picks up bad behavior from daycare as the training is reinforced there throughout the day."
-Erin G.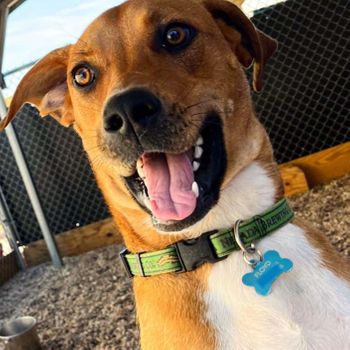 "Our dog loves it here. When we have to leave him for daycare, there's no guilt because he absolutely loves it. We've taken our dog about six times every time has been great."
-Steve B.
What will be my dog's schedule at daycare?
Dogs need both exercise and rest. Your dog will start the day resting in the boarding room, group near the other dogs they will play with. Our daycare staff does 2-hour rotations, 2 hours of rest, and 2 hours of play. Your dog will have fun playing in our yards with their group and then come back in for a little rest time. Depending on the weather, and what time your dog arrives and goes home, they will be outside playing between 4-6 hours! Our goal is for you to pick up a happy, and tired dog, at the end of the day!
How many dogs play together at once?
Our groups are 10 dogs or less. We group out packs by both size and temperament. Some of our older dogs prefer a smaller and less energetic group. Some dogs love to run around and play well in larger groups. Some dogs need their alone time outside. All Dogs are different and we cater to your individual dog's needs. Playtime is monitored by staff, all trained in dog behavior.
What shots does my dog need before coming in?
We require up-to-date shots for Rabies, Bordetella, and Distemper. Your vet will have these records on file. You can email them to us at info@alldogadventures.com or you can upload them directly into our portal.
Do you charge extra for late pick up?
Our daycare rates are for a full day, 7 am – 7 pm. If your dog needs to stay after 7 pm, we will board the dog for the night, and you can come back in the morning for pick up.
What happens in an assessment and why do I need one?
Anytime we have a new dog come into our pack, we do an assessment. We will do this even if we have met the dog before, but have not seen them in more than 6 months. During an assessment, one of our more experienced staff members will take the dog through a variety of exercises designed to evaluate temperament. Dog temperament can change over time and can be different at daycare than it is at home. The safety of your dog, other dogs, and our staff is our priority. The assessment is a step we can take to ensure All Dogs have a fun and safe time in our care.